It's finally here. For many of us–as in the entire state of Alabama including pets, barnyard animals, and infants—-the arrival of the first football game is what enables us to survive the depths of humidity hell. Football makes everything better. What am I looking forward to the most?
1. Tailgating food. This little recipe right here just might be a weekend standard in this household. I found a way to cut the heat to barely manageable so I will gladly spend an afternoon making these.
2. The University of Alabama.

This could contain a lot of favorites. I love game day on campus. Going to the Quad for what I consider "tailgating done right". I'm usually on the corner in the only houndstooth canopy tent. Depending on the game, the caterer provides amazing food for the guests. I love the traffic on The Strip. I love the crowds, the smiles, the general top-of-the-football-world feeling when the team is having run of great years. I will never get tired of game day in Tuscaloosa, Alabama. Much better than being a 'Bama fan living in Memphis during the Tennessee Payton Manning years
3. Bleacher Report.
I have this page bookmarked and the app with TeamStream on all iThings. It is the one-stop sports fanatic cruising site. Seeing all the hype about the upcoming Alabama-Texas A&M game isn't helping my nerves, but I love seeing all the stories about college football (SEC specifically). Even those who love to hate on Alabama are interesting to read.
4. The Alabama and Nick Saban pics.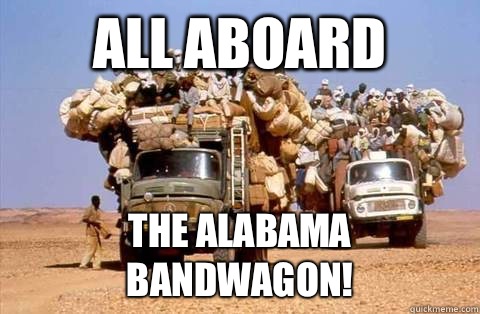 It's still hot outside. No sign of a pumpkin or falling leaves. Daylight still lasts forever. But once the football starts, it's warp speed all the way to December 31st. The first day of the season is here and I'm ready! Roll Tide Roll.