Stuffed zucchini can be a quick and easy weeknight meal with a little prep time.
I had a lot of zucchini from the farmer's market and I was tired of sautéing it. I had some beef that needed some pizzazz.
Beyond that, I didn't have any ideas other than stuffing that zucchini.
When I made my weekly menu and planned stuffed zucchini, I assumed I would figure out between Sunday and Thursday how I wanted to go about this.
I was wrong. So I grabbed what I had hanging around. I knew I didn't want a tomato sauce, but more of a cream cheese sauce and I had a tub of mascarpone patiently waiting for something.
This seems like a lot of work, but it was prepped in 15 minutes, and cooked for 30 minutes. You can start the beef, onions, and peppers the same time you begin work on the zucchini.
Once you have finished scooping out the middle of the zucchini, add it to the beef. It will continue to cook in the oven so it doesn't have to be completely done before stuffing. It does need a at least 5 minutes or so in the pan to help reduce the water content.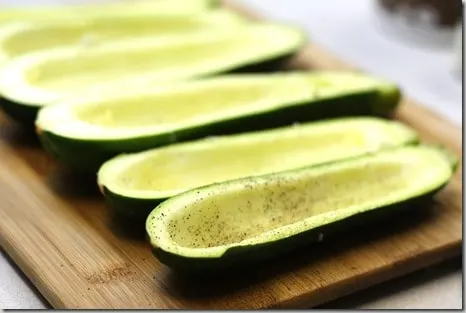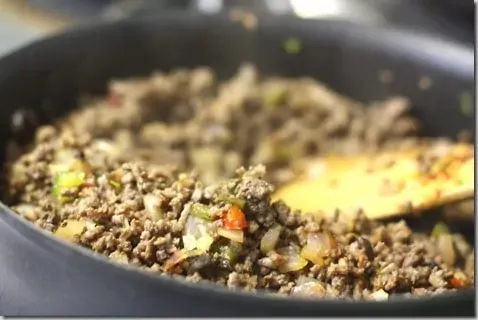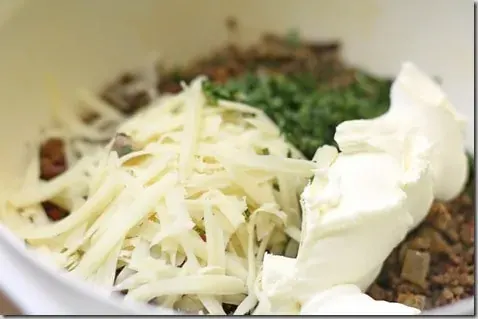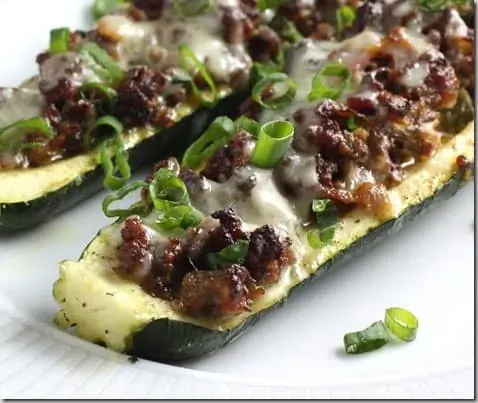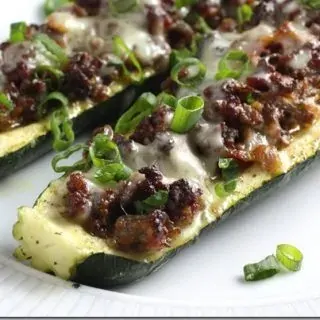 Stuffed Zucchini
Ingredients
4 large zucchini, sliced lengthwise and middle scooped out and reserved.
3/4 lb lean ground beef
1/2 cup chopped red/yellow/green peppers in any combination
1/2 cup onion, diced
1/3 cup of water
1 Tablespoon taco seasoning
1/2 cup shredded cheddar
1/2 cup of mascarpone cheese, cream cheese is excellent substitute
1/4 cup of parsley, chopped
1/2 cup of mozzarella cheese, shredded
1 green onion, sliced thin
Instructions
Brown beef, peppers, onions and the middle part of the zucchini that was scooped out. Leave "boats" on a sprayed sheet pan.
Add taco seasoning and water. Stir and simmer a few minutes until seasoning is equally distributed.
In a large bowl, add beef, cheddar, mascarpone, parsley. Mix well.
Spoon mixture into each zucchini boat.
Bake 400* for 30 minutes. If zucchini is not done, return to oven and check after 10 more minutes.
Remove, sprinkle mozzarella cheese and return to oven. Turn heat off. Cheese will melt in 3-5 minutes. Top with green onions and serve.
Nutrition Information:
Amount Per Serving:
Calories:

426
Saturated Fat:

15g
Trans Fat:

1g
Cholesterol:

102mg
Sodium:

311mg
Carbohydrates:

19g
Fiber:

5g
Sugar:

9g
Protein:

32g