Summer is a time for grilling! However, I wanted steak and the grillmaster is at work, so I improvised on my RV stove. I had a skirt steak I bought from my local beef farmer and I was hungry for a plate of beef and vegetables. This is the first time I've tried this since being in the RV and it turned out pretty good!
I know that grilling or searing meat creates a high smoke content and that can be a big problem inside a large sardine can that we call an RV. I have to open up all vents and turn the AC on high to keep the air flowing so I don't smoke out Frankie and myself. I prepared the vents and got my materials and ingredient together as best as I could.
The hardest part of this recipe is deciding when to remove it from the heat. If you want rare or medium-rare, the time after the flip will be 2-3 minutes at the most. Remember that the beef will continue to cook while it is resting and it will rest 3-5 minutes while you are cooking the Brussels. Also, cutting this into the thinnest strips will make for a more tender bite.
After I finished, I was thrilled with the results. I had a plate of medium-rare beef with crispy stir fried Brussels sprouts and nobody lost their life or lungs. Have I mentioned that I'm so ready for a full size kitchen again?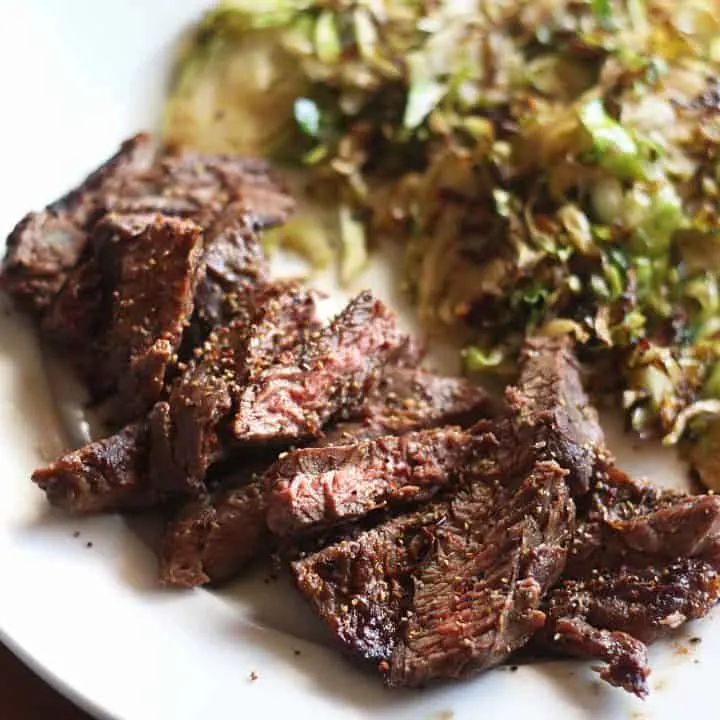 Skirt Steak and Brussels
Ingredients
1 skirt steak
2 tbsp extra-virgin olive oil or avocado oil
1 tbsp steak seasoning
2 cups shredded Brussels sproouts
Instructions
Rub the skirt steak with olive oil. Sprinkle steak seasoning on both sides.
Heat a griddle pan or skillet to medium-high heat.
Place the steak on the pan and do not move. Let it sear and cook 3 minutes on one side. Flip the steak and finish cooking 3-5 minutes, depending on rare level. Press the meat with your finger to test or use a meat thermometer.
Remove the steak and let it rest. Add the Brussels to the pan with the steak drippings. Toss Brussles 3 minutes until crisp-tender.
Remove Brussels to a serving plate and set aside. Using a very sharp knife, slice the skirt steak across the grain on a diagonal to create thin strips of beef. Serve with Brussels.
Nutrition Information:
Yield:

2
Serving Size:

1
Amount Per Serving:
Calories:

281
Total Fat:

24g
Saturated Fat:

4g
Trans Fat:

0g
Unsaturated Fat:

19g
Cholesterol:

8mg
Sodium:

766mg
Carbohydrates:

13g
Fiber:

5g
Sugar:

3g
Protein:

8g