It's 2019 and in between binge-watching the Gilmore Girls, I made Sausage breakfast casserole. We had 2 days of teacher professional development this week but the kids start back on Monday and I pick up my mornings at CrossFit, so I needed breakfast ideas. I needed easy to cook, easy to store, and easy to reheat.
Part of getting back on the health kick and keto train is having a steady supply of ready-to-eat meals. Whether I have them in the freezer or divided into portions in the fridge, all the matters is having breakfast and lunch prepped ahead of time. I'm much less likely to either deal with hangry thoughts or stalk the cheetoes in the vending machines.
This is the easiest breakfast recipe that I have in my arsenal of keto recipes. I cook a few vegetables together, cook some sausage, add eggs and call it done. I made this in a skillet on the stove, but you could definitely bake it in the oven for less hands-on cooking time. For that, spray the pan, add chopped vegetables and baby spinach leaves. Cook the sausage and layer on top. Add the whipped eggs and cream. Bake 350 for 40 minutes.
For variations, I look at what I have in the fridge. I usually have mushrooms, zucchini, broccoli, chopped green chili peppers, kale, and carrots. Any of those would work with sausage and eggs. Be aware that mushrooms and zucchini lose water so you may want to sauté those first.
With recipes like this, I have a great plan for next week.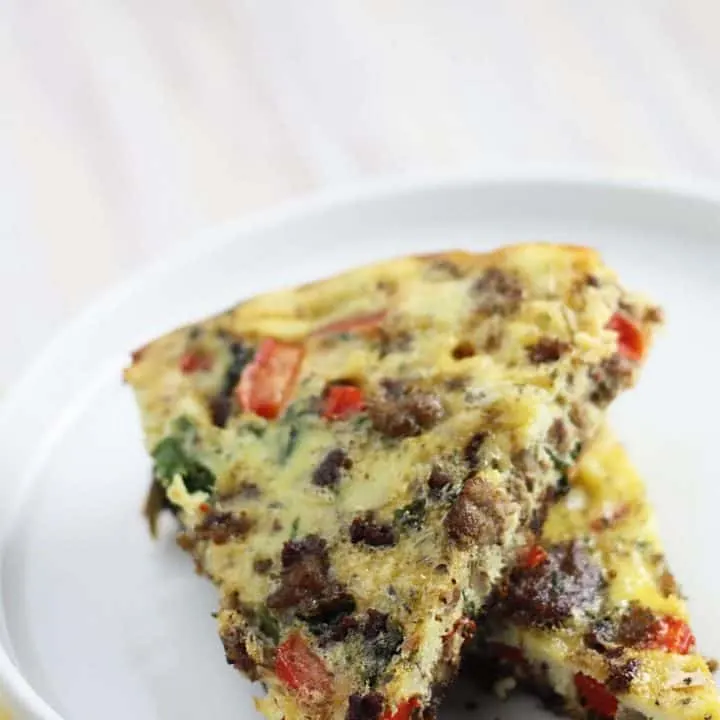 Sausage Breakfast Casserole
Breakfast casserole with sausge and vegetables.
Ingredients
1 lb ground pork sausage
2 Tablespoons butter
1/2 cup onion
1/4 cup chopped red bell pepper
1 cup baby spinach
8 eggs
1/4 cup heavy whipping cream
salt pepper
Instructions
In a large skillet, cook ground sausage completely. Remove and set aside.
Add butter to pan. Add chopped onion and pepper. Cook 5 minutes.
Add spinach and cook on medium until wilted and fully mixed with vegetables.
Add sausage back to the pan.
Whisk eggs, salt and pepper, and heavy whipping cream in a large bowl. Slowly pour over sausge and vegetables. Cover and lower heat to low.
When eggs are fully set, remove from heat and serve.
Nutrition Information:
Yield:

8
Serving Size:

1
Amount Per Serving:
Calories:

315
Total Fat:

26g
Saturated Fat:

10g
Trans Fat:

0g
Unsaturated Fat:

14g
Cholesterol:

251mg
Sodium:

634mg
Carbohydrates:

3g
Fiber:

0g
Sugar:

2g
Protein:

17g