When I get stuck in a chicken rut, I take stock of what is in my fridge and pantry and then try to do something to make chicken fun again. This Green Chili Chicken is one of those last-minute creations.
I made this yesterday, and it's almost gone. I'm the only one in the house eating it. I have zero shame in the matter. ZERO. It's so good and I have used it on salads, with raw veggies, and straight out of the bowl. I have 2 pieces left and I have wicked plans for it that might include a Whole 30 mayo recipe for Chicken salad.
Even if you do not have all the ingredients for this, you can make this *almost* homemade by using a jar of salsa verde and tricking the family into thinking you worked all day on this. Nobody will ever tell. I like to add a little heat to a jar of salsa verde, myself.
Green Chili Chicken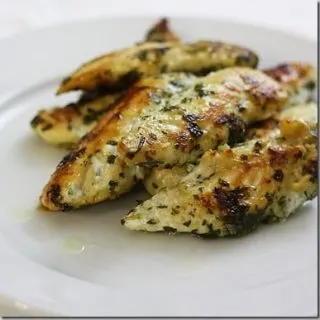 Green chile Chicken
Ingredients
1 lb of chicken breasts, skin removed and sliced into strips.
1 cup of avocado oil, olive oil substituted if needed
1 lime juiced
2 Jalapeños, seeded and diced.
2 Tablespoons chopped green chilies
4 cloves of garlic, minced
1/8 cup fresh cilantro
Instructions
In a food process or blender, combine all ingredients EXCEPT CHICKEN and pulverize into happiness.
Slice breasts into tender sizes, unless you bought it already sliced.
Place chicken in a zip seal bag or sealable bowl. Pour mixture on top. Marinate at least 30 minutes.
Get pan warm using medium-low setting. You do NOT want to rush this on high or you'll have green chicken bricks.
Place chicken in pan and DO NOT MOVE IT for about 8 minutes. THROW AWAY MARINADE. Wash hands and surfaces completely.
Allow the bottom to brown. Once they are almost done and just the centers are still pink, they are ready to flip over.
Finish cooking 3-5 minutes and remove.
DO NOT ALLOW MARINADE TO TOUCH COOKED CHICKEN! It should already be in trash can.