4 years ago, it was the Game of the Century. We were ranked #1 and #2 in the BCS, the decider of who played in bowl games and national championships. ESPN Gameday was in Tuscaloosa. Verne and Gary were announcing for CBS. Tshirts were flying everywhere in anticipation. It was a lot of hype.
We lost. We lost hard.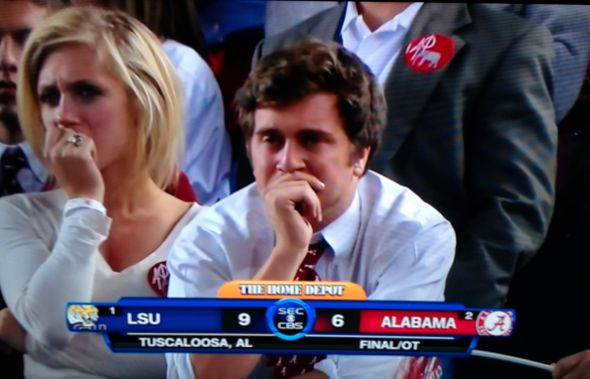 And we came back and kicked major ass the rest of our games and still finished #2 to play LSU in the 2011 National Championship. We won. We won hard. I still have it recorded on the DVR. No shame, because it was an EPIC game for Bama fans.
That was then. 4 years passed and the annual meet up between the 2 teams didn't have much hype.
Until this year. #2 and #4 in the Playoff standings met again.
And this game was crucial. We lost to Ole Miss early in the season and only improved each weekend. LSU was undefeated. It was not quite the hype of 2011, but it was plenty of bait for sports radio and armchair quarterbacks across the south.
We won. Not only did we win, kept Fournette to less than 100 yards and broke his streak of games with 100+yards.
Now we have 3 more weeks to see if we, once again, find ourselves in the final 4. We got there last year and choked so hard in the semi-final game. I'm a spoiled rotten Alabama fan in that…I expect to go to the national championship each year. Or at the very least, have no more than 1-loss going into the final four teams. I know one day Nick Saban will leave or retire. But until then, I'm enjoying the time at the top of the dynasty. We moved to Tuscaloosa 3 years before Saban. It took him 2 years to give us a fantastic season. And it's been a great ride ever since. Roll Tide!!