Living in a small space means I have to get creative with dinners. I like to make meals that can be cooked in one pot or one pan. I literally have 4 feet total of counter space and it is broken into 3 sections. I just do not have a flat surface to make elaborate meals and I have to say…I MISS cooking elaborate meals.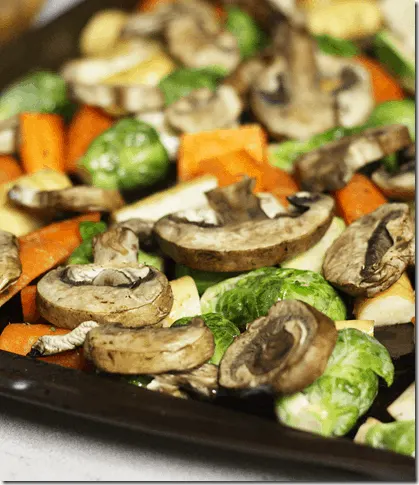 This is a very versatile dish. I pick some vegetables and chop them so they will cook evenly. I chop the more dense carrots smaller than the rest of the vegetables. I cut the Brussels sprouts in half along with the mushrooms. Those will not take long to roast.
After I chopped these, I tossed with oil and seasonings. I used a basic vegetable blend from Penzey's. The seasonings depend on preference. I could have used some chipotle for heat. I had a taco blend that is good with Brussels. A rich German blend or a Russian blend will work with chicken and vegetables. The sky is the limit with this blank canvas on a sheet pan.
I the cleared some space on the pan for the chicken and roasted the whole pan on 450* for 20 minutes. I did use a meat thermometer to make sure chicken was thoroughly cooked. Cooking at a high heat helps the water in the vegetables evaporate quickly so the vegetables roast instead of "boil" in their steam.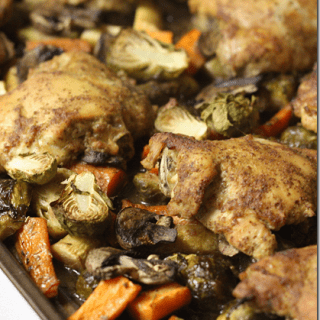 Sheet Pan Dinners-Chicken and Vegetables
Ingredients
3 carrots chopped
10 Brussels sprouts halved
1 medium squash chopped
1 cup of mushrooms
1/4 cup olive oil
2 cloves garlic
2 Tablespoons vegetable seasoning , combination of parsley thyme, rosemary, dill.
Instructions
Preheat oven to 450*
On a plastic cutting board, lay chicken flat and season with vegetable blend.
On a separate cutting board, chop the carrots into small pieces. Halve the Brussels and mushrooms. Slice and quarter the squash.
In a small bowl, combine the oil, garlic, and seasoning blend. Add salt and pepper, if needed. Mix completely.
Layer vegetables on the pan. Pour oil mixture over them. Using your hands or a flat spatula, toss the vegetables until completely covered.
Make room on the pan for 6 chicken thighs.
Place pan in oven for 20 minutes. Use a meat thermometer to see if done. If not 170*, return to oven and check every 3-5 minutes until 170*.
Remove from oven and let rest 5 minutes. Serve.