I love making Seven Layer Bars because they are EASY! The hardest step is melting butter. I'm serious about this one. The other layers are in bags and cans and are easily opened.
I first made these a few years ago before I was diagnosed with Celiac disease. It's been a few years since then and finding gluten free foods are a lot easier now. After finding the graham crackers, I found the rest of the ingredients at a regular grocery store.
These have been around a very long time but they are very versatile. You could use any kind of baking chip such as mint, peppermint, cinnamon chocolate, etc. You can also change the pecans to walnuts or almonds. I once used some spiced praline pecans in this recipe and those took it to a whole new level. The only way to mess these up is to burn them so just keep an eye on the time and start checking at 25 minutes.
[Tweet "A #glutenfree holiday tradition. "]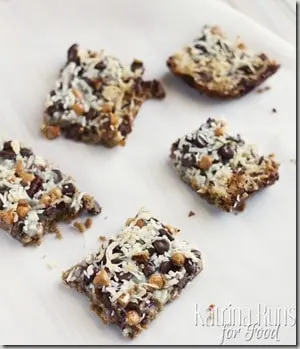 Gluten Free Seven Layer Bars
Ingredients
1 1/2 cups Gluten-free Graham cracker crumbs
1/2 cup butter, melted
1 can sweetened condensed milk
1 cup butterscotch chips
1 cup semi-sweet chocolate chips
1 cup of pecans, coarsely chopped
1 1/2 cups flaked coconut
Instructions
Heat oven to 350 and grease or spray a 9x13 pan.
Combine melted butter and cracker crumbs in a bowl. Press crumbs into the bottom of pan.
Pour the can of condensed milk over the crumb crust.
Spread the pecans evenly over the milk.
Spread the butterscotch and chocolate chips over pecans.
Sprinkle the coconut over the top, lightly pressing into the layers.
Bake 25-30 minutes until edges are beginning to brown. Remove and let cool before cutting into bars.