**Disclaimer. This is NOT (I repeat…NOT) a paid product endorsement. Please read my full disclosure at the end of this blog post. Simply put, this is my planner and I love it and want to share the details.**
UPDATE: It's been a couple of years since I wrote this post. I have come a LONG way in my planner obsession. Please check out THIS POST for a more recent glimpse into the madness. I mean that in all sincerity..
Here is an updated spread from 2015.
A few months ago, I ordered a new Erin Condren planner with the academic year calendar. It's been a few months and I absolutely LOVE it. This is the first time I've used ONE calendar for both school (I'm a teacher) and life. As I mentioned in my first initial post, I've usually kept two calendars. We usually got a free academic calendar when school starts. Then again in January, I would comb the aisles for a calendar for my non-school related appointments. Then I used my iphone for some random stuff when I didn't have the right calendar with me. It was just too confusing keeping all these things organized that are supposed to make my life more….organized.
This life planner has solved that problem.
First, I want to show the best pens I have found. I bought the EC pens because I do color code my life planner. I also use these Paper Mate FLAIR felt-tip pens. I love these because of the vibrant color that does not bleed through.
The monthly calendar at a view. The two page layout allows for more writing and the stickers fit! The first thing I did when I got the planner was put in the Alabama Football schedule!
In my previous post, I detailed how I would use this differently than the "morning/day/night" sections that are printed on each day. I had to come up with a way to keep all my stuff organized for quick viewing but handy to use, too.
Section 1(top): Non-school related appointments, to-do, reminders. I usually put my stickers for non-school related events at the top as well, like birthdays, vacations, doctors.
Sections 1 is where I posted my planned workouts. I wrote these in PURPLE when I made my plan for the week.
Section 2 (middle): All SCHOOL related reminders, apts, information. All school-related stickers went here, as well. I made this section BLUE since I use only blue ball point pens. I rarely have time to dig for another color when someone walks in or announces over an intercom about an event or reminder that I need to write down. I ALWAYS have stashes of blue pens in about 10 places in the classroom, so this made perfect sense and it has worked great.
Section 3: Food/blog. I write my dinner menu for the week and keep up with my other meals. I write these in GREEN. (Eat more greens!). Blog topics are in orange.
I chose this certain week to show you one of my favorite parts of this planner. The weekend! Saturday and Sunday are at the end of the week. I know that Sunday is the real first day of the week, however, when I sit down to plan my week, I like the M-Friday first. Then I use the S/S for various things like obviously any events or appointments, but also to keep a running list of things to get at the store. This calendar sits on my desk at school so I can quickly jot things down.
But what I wanted to show about this particular week is that I used S/S for a travel diary. We went to TN for a 3 day weekend to see the Alabama/TN game. I learned a LONG time ago from my grandmother to keep a travel diary. She has these little notebooks from the past 30+ years of her travels across the country to see family. Each one has details about where they stopped, how much the gas was, whether the food was good and use that place again or scratch it forever, any funny stories or interesting people, etc. What an absolute treasure and history those notebooks are! When we went on our first trip to Colorado a few years ago, we started doing the same thing. We have a notebook with pages of our trips to Colorado. But we do not have information about other trips we've taken. And that's sad to me. I love looking back at old travel notes. This year, I wrote stuff down about the trip to TN and kept them in the calendar blocks. Another reason I love blogging my life is so I can have a detailed account of the adventures and misadventures
. But I don't always have a computer open nor am I typing while driving in a car. I used my pictures and my notes I wrote in the planner to help detail my blog posts. My grandma would be proud!
As far as other details, I made an extra pocket in the back. In my previous post, I said I had bought a deeply discounted planner in April of this year so I could see if I liked it before I spent the money on a full year calendar. The 2011-2012 life planners had double sided pockets. These new 2012-2013 planners have a large pocket on one side. I ripped out the previous pocket in the old planner and stapled it to the new planner. Two pockets! I keep the larger things like pay stubs, church directory of care group information, sub phone lists, coupons from EC!
And the aluminum coil is PERFECT!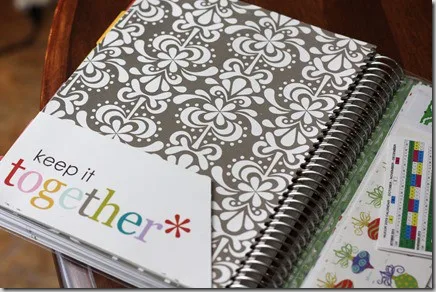 Behind the pocket is a zip pouch. I think this is one of the very best features. Tickets, stamps, work schedules, address labels, receipts, etc.
And in the back is something that makes the teacher in me smile. Personalized, perfectly matching notepads.
Now that 2013 is just around the corner, I'm ready. Would I still use this in the way I do if I wasn't a teacher? Yes, I would use the middle section as a "work" section. If I had kids, I imagine I would use it other ways. This is an extremely adaptable planner to fit YOUR life. It took me about 3 weeks to get used to always keeping ONE planner with me and where to quickly look for the section of life I needed. Now, I can't imagine not having it with me. I even bought a new bag centered around keeping this planner with me at all times..THAT's how much I love and use this planner. I'll do a review on my bag (which holds my camera and iPad, too!) soon.
**I paid for this item and was NOT reimbursed or coerced in any way by Erin Condren. The reviews, statements, and opinions are mine alone after using this for a few months. When I find a great product, I share my thoughts with everyone. Well, with everyone who reads this so that means my mother and maybe someone in Russia who keeps pinging my website

**