Ever wake up singing a song? This is the one on my mind this morning. Might be because I'm not sleeping very well at all and when I do doze off, I fall hard for a couple of hours. No coffee for me this morning. Rushing to work, wishing for 5:00. I hate days that start like this. My mind is going 90-to-nothing.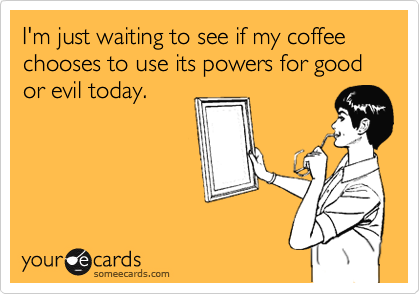 But..I did find coffee!! This was a lesson in hilarity. I love coffee. But I love my coffee pot because it is a Bunn, pour and wait 30 seconds for glory. No buttons or anything. Pour and wait. Coffee perfection. At school, nobody makes coffee. It's a travesty. I spent my early morning break figuring out the coffee pot and making something that resembled coffee. And I found a long-forgotten coffee mug in the cabinet. Winner winner, cage-free chicken dinner!
Things are crazy at work and school so this is another short and sweet post. I'm still sticking to my Whole 30 and I'm seeing the benefits as in almost TOO MUCH Tiger Blood. I'm not sleeping. Way too much energy or mind-rambling to sleep. And I know that is not good.
This stuff is magic. Chicken soup made from bone broth. Very rich and hot with red pepper flakes. I think this is the main reason I'm not back at the doctor with the sinus infection/bronchitis that WILL NOT GO AWAY.
And I had more of it for dinner. I finally finished the pot after 3 days of lunches and 2 nights of dinner. It had a lot of chicken and vegetables and I added greens with my dinner to beef up the good carbs.
Thoughts so far? My pants are smaller. I'm drinking more water than before, but not near enough. Energy is outrageous. Sleeping is non-existent. I'm hoping this last week and the additional 2-3 weeks I plan to continue will even things out. I could see me doing this easily until my birthday in March. I'm eating enough, I'm not craving sugar and because I feel like I'm in the "zone" of Whole30, I'm more easily able to resist non-gluten grains and starches. Right now, I need this crutch of a challenge. I have a few more days of the original 30 and I know I'm going to 45 days. After that, I'll re-assess. I have running and CrossFit goals to conquer!