I ran my second Rock 'n' Roll half marathon for 2016!! This year is already my best year ever with training and racing with Rock 'n' Roll. The last time I raced Nashville, it was dubbed the "monsoon marathon". Flash flooding was interesting. Lightening was not. This year, we were going to deal with heat, humidity, and storms. Good times.
My training was so-so with this one. In March, I had the flu and then pneumonia. My lungs take forever to recover from that but I managed a couple of good long runs the last 2 weekends so I knew I could do this one. I just wasn't going to PR and with those Nashvegas hills, I wasn't going to PR anyway. So, goal race was to finish! Injury-free finish, I should add

What I love about Nashville is the easy access to the Expo and race start. I had to deal with some stop-and-go traffic, but I parked easily (and free!) and was able to get through the expo without rushing or frantic stress. I bought a shirt and some Glukos gummies.
We had been receiving email updates about the weather so we had the opportunity to be well informed and dressed for weather surprises.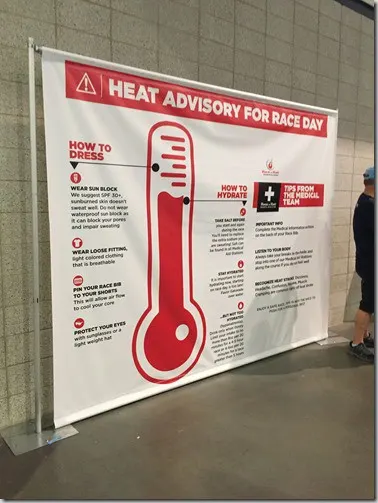 After the expo, I drove 10 minutes to my hotel. I often use my education discount code for hotels when I drive to races. Since this was just me, I scored a great hotel close to the race. Pre-race meal of Panera chicken salad. I don't get fancy before a race. I stick to what works for me. I need things that have no chance of gluten contamination.
Race day shenanigans were kept to a minimum. We were packed in like sardines. I know from experience to NOT get in the corral until start time. I wait for my corral to move up and then I get in with the crowd. This reduces the chances of me shanking somebody for stepping on me. We were off and running! Rain and humidity were in full force so it felt like a smaller-scale repeat of 2013. It wasn't a constant monsoon, but the alternating rain, steamy sun, and zero wind made for a swampy mess. I did not get many pictures because of the rain and because my foot hurt and I was hobbling a lot towards the end.
This race had fantastic support. Fully stocked water and Gatorade, plenty of offerings from local businesses, private residents, Elvis' impersonators, happy tipsy people, awesome music, maybe some pot aromas, and anything in between. It really was a party. The orange people were at mile 12 and it was the best stuff ever. Just oranges. Lots of them. The champagne couple are often seen at this race. One group of people had free beer shots. And again, I was thrilled with the option of Gatorade at every other water stop.
Finish line was at the Nissan Stadium. This year, we parked (free!) at the stadium and walked to the starting line. We finished in the stadium so we were able to quickly find our parking spots after. The finishers' coral was full of anything and everything. Water, gatorade, chocolate milk, bananas, bagels, a guy who was one inch of shorts shy of being an exhibitionist, PowerBars, chips, cookies, and that's all I remember. I was tired. But there were a ton of boxes left when I finished. I grabbed a Gatorade, banana, and chocolate milk. I found my parking spot, changed my clothes in the car and got back on the interstate back to Tuscaloosa. Smiling HUGE! I absolutely love the feeling after a hard race. And Rock 'n' Roll knows how to bling out the finisher's medals.
If you are interested in a Rock 'n' Roll race, they have many locations and all distances from 5K to full marathon. Use my code "Katrinaruns" to save 15$ off registration.