We are talking about liquor. Medicinal liquor. The stuff that generations of sick folks depended upon before the invention of dextromethorphan.
I decided, after waking up yet again with a fully congested head and ears along with an inflamed painful throat, that I'm not taking any more drugs for this stuff.
I've been on an anti-biotic for 7 weeks along with various cough suppressants, expectorants, and heavy doses of ibuprofen for rib pain. Obviously, nothing is working or else my body has built up resistance to them.
And the "nighttime" prescription narcotics keep me wide awake with itching skin and weird states of in-between sleep.
It's time to handle this the all natural way. What did our ancestors do when a head cold/flu/sinus crap got ahold of them? They used what the Good Lord gave them. Honey, lemon, peppermint (for flavor) and whiskey.
I vividly remember a jar that sat on top of my grandmother's refrigerator before it was either used up or it disappeared.
I remember seeing various members of my family take a spoon and dip out of it. . . some only once. Some certain family members needed a little more healing than one spoon could give.
But I remember the big peppermint stick and that is what I found myself holding in the checkout line at the grocery store. You can usually find these around the holidays.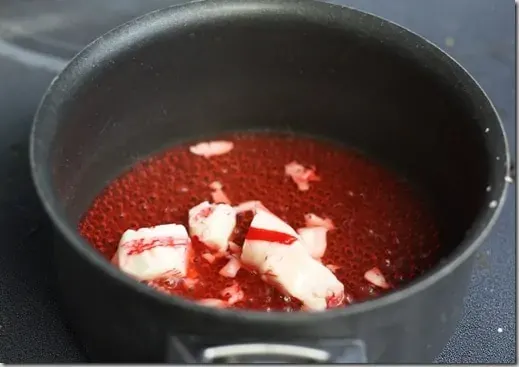 What do you need to make this?
Grandma's cough medicine is 4 ingredients: peppermint, honey, lemon, and liquor/whiskey. I don't think it really matters which liquor you use. My family always used a dark whiskey/ bourbon. The point is NOT to get so drunk you can't stand. Why these 4 things?
Honey coats the throat, is anti-bacterial and builds the immune system. It can also be used for burns and keeps infection away. Honey also draws pus out of wounds and sores.
Whiskey works as an anesthetic to the cough response so you can sleep. If you can't sleep, your body can't rejuvenate. Whiskey is also higher in antioxidants than red wine so it fights free radicals too.
Lemon provides Vitamin C and helps the liver cleanse the body. Lemon is one of the best foods for the liver because it cuts through mucous which often accompanies colds. It is also alkaline once it's ingested which is especially good while fighting flu and coughs.
Peppermint flavors the syrup and stops coughing. Spices such as cayenne pepper, ginger and cinnamon can be added for flavor and extra healing. Just make sure they are thoroughly mixed.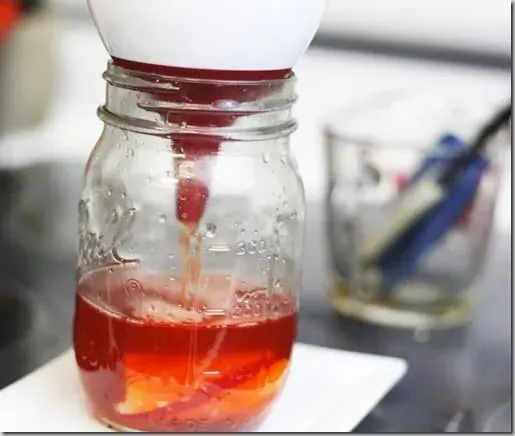 What is a "Big Peppermint Stick"?
The big peppermint sticks may not be as easy to find as years ago. I find them every year at walmart or the grocery store.
If you can't find one around the holidays in the gift basket or specialty candy sections of the grocery store, just use regular peppermint sticks or the candies. The sugar and peppermint is for flavor only.
When I saw the peppermint stick as soon as I walked in the store and had the revelation to ditch the meds, I also decided to fill my basket with flu-fighting foods.
I loaded up with a whole chicken for soup with bone broth. Salmon for Omegas, spinach for fighting free radicals, asparagus to clean out the bladder/kidneys, and nuts for clean protein.
If I'm going all natural with the cough/congestion medicine, I'm sticking to real foods, too.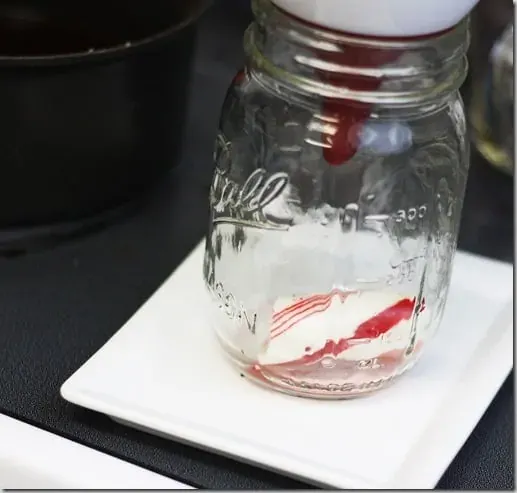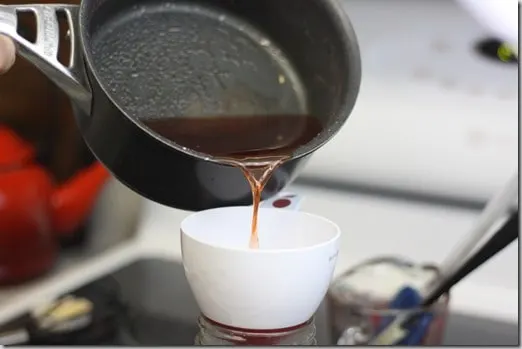 The Verdict: I slept great last night. I have a lot of congestion but I got some good sleep.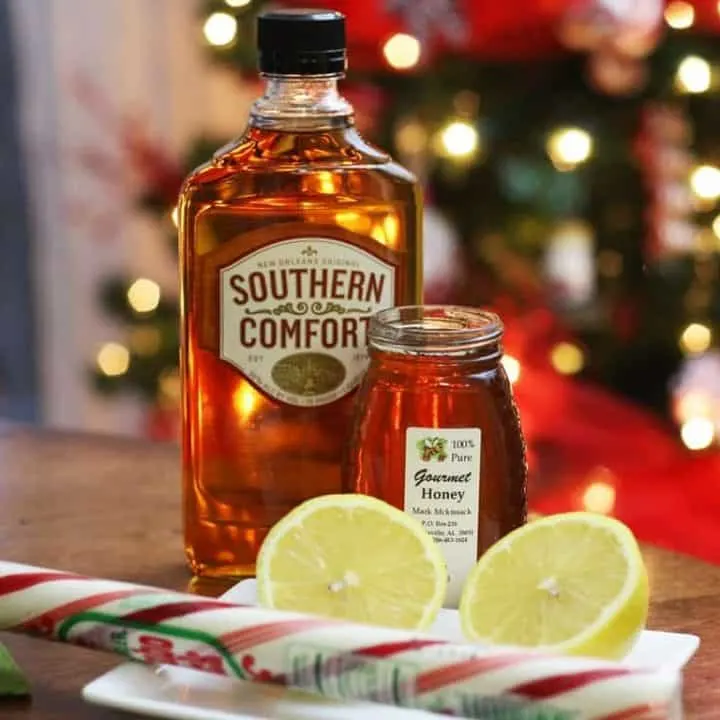 Grandma's Homemade Cough Syrup
Using whiskey, honey, lemon, and peppermint, this homemade cough syrup is just what you need for sleepless coughing nights.
Ingredients
1 peppermint stick, large
1/2 cup water
1/4 cup lemon juice
1/2 cup bourbon or whiskey
1.5 cups raw honey
Instructions
Melt 1/4 a peppermint stick in 1/2 cup of water and 1/4 cup of lemon juice (or juice of 1 lemon).
Add a half of cup of Southern Comfort and 1.5 cups of raw honey to pot and reduce heat.
Stir to combine. Put 1/4 of a peppermint stick in jar.
Using a funnel, pour the mixture over 1/4 of peppermint stick (total of 1/2 of peppermint stick used.)
Let it cool. Store in cool dry place.
Notes
Dosing: 1-2 Tablespoons every 3-4 hours as needed. No need to swig the jar.
Nutrition Information:
Yield:

30
Serving Size:

1
Amount Per Serving:
Calories:

62
Total Fat:

0g
Saturated Fat:

0g
Trans Fat:

0g
Unsaturated Fat:

0g
Cholesterol:

0mg
Sodium:

1mg
Carbohydrates:

14g
Fiber:

0g
Sugar:

14g
Protein:

0g