These Gluten Free pumpkin cream cheese muffins are a great way to welcome the fall weather.
Slowly, the fall weather is coming down to the Deep South. That just makes me want to do more baking of all the fall things.
In our House United with both of us having Celiac Disease, gluten-free desserts are a must. I have extreme reactions to any contamination to gluten so I do not keep any gluten flours in the house.
Gluten Free flours
The more I experiment with flours, the more picky I am about my flours.
There are a couple of great All Purpose 1-1 flours. Bob's Red Mill is a staple in my pantry. However, it is NOT great for baking things that need a light or fluffy texture.
For baking cakes, muffins, scones, etc, I use Pamela's Pancake and Baking Mix. Is already has the baking soda, powder, and xanthem gum. The texture is so similar to traditional baking flour, nobody will know it's gluten free.
I am looking for Bob's Red Mill 1-1 BAKING flour. I've heard great things about it, but it is not as easily available as the all-purpose and Pamela's Baking flour.
Gluten Free Pumpkin Cream Cheese Muffins notes.
This recipe calls for "pumpkin pie spice". I use a Penzey's brand pie spice and I've seen various brands of pumpin pie spice in most stores.
If you do not have this blend, use a combination of ground cloves, cinnamon, and nutmeg.
For a little more sweeter taste, use a little more cinnamon. For a more spice bang, dash a little more cloves.
For the cream cheese filling, you do not have to use any confectioner's sugar OR you can reduce the sugar. Plain softened cream cheese with spices is perfectly fine.
For the crumble topping, use a packed 1/2 cup of brown sugar. Really smash it down in the cup.
You can also use my method, which is scoop it out with a 1/4 cup, loose. Then scoop a little bit more. For this specific topping, you can totally eyeball it.
Some people keep frozen butter for baking biscuits and scones. This would work great for this crumble. Just use a box grater to grate 4 Tablespoons.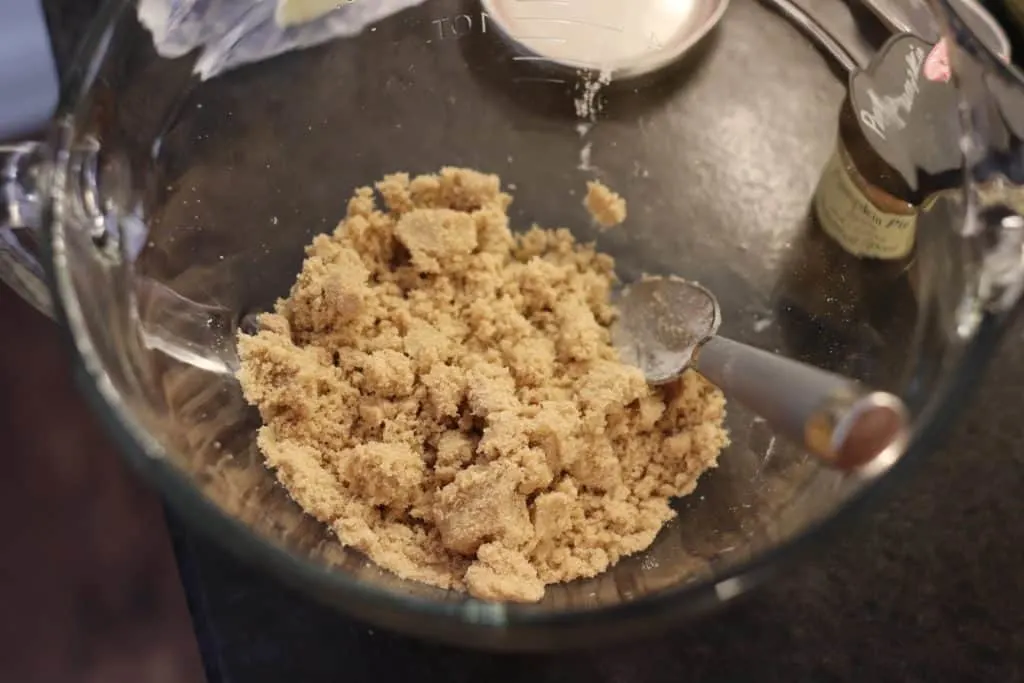 I used a piping bag, which is a zipper seal bag with a corner cut off, to assemble the muffin bottoms and tops. It's a lot easier than using utensils. I then used a scraper to level them off.
Gluten Free Pumpkin Cream Cheese Muffins
Additional Time:
15 minutes
Total Time:
1 hour
5 minutes
Gluten Free Pumpkin Cream Cheese muffins are a delicious way to welcome the fall season!
Ingredients
2 cups of Pamela's Gluten Free Baking and Pancake mix
1/2 cup sugar
2 teaspoons pumpkin pie spice (or combination of cinnamon, cloves, nutmeg)
1/4 cup of melted butter
1/2 cup milk
1 egg
1 cup of canned pumpkin (I used LIbby's)
Filling Ingredients
8 0z cream cheese, softened
1 cup confectioners' sugar
1 teaspoon pumpkin pie spice
Crumble Topping Ingredients
1/4 cup gluten-free flour
1/2 cup brown sugar
2 teaspoons pumpkin pie spice
4 Tablespoons cold butter, grated or cut in pieces
Instructions
For the filling: In a small bowl, mix sugar, spice, and cream cheese. Keep in fridge until needed.
For the crumble topping: In a small bowl, mix sugar, spices, and flour with a fork.
Add cold butter and work into the dry mixture with fork or use hands. The mixture will form a crumble. Keep in fridge until needed.
Preheat oven to 350* and line a muffin pan with 12 liners or spray/oil the pan.
In a large mixer bowl, combine the Pamela's flour, sugar, and dry spices.
In a medium bowl, combine the butter, milk, egg, and pumpkin
If using a stand mixer, slowly add the wet ingredients to the dry with mixer on low. Slowly increase speed, scraping sides of bowl if needed, until just mixed. Do not over-mix!
If using a hand mixer, add the wet to the dry in small batches, and mix until ingredients combine. Do not over-mix!
Set up an assembly line of muffin mix, cream cheese filling, and crumble topping.
Place a small scoop of muffin batter in the bottom of muffin cups, just enough to cover the bottom completely.
Using a teaspoon, place a heaping scoop of filling in the center of each cup.
Fill the cups 3/4 to the top with the rest of the muffin batter.
Top each muffin cup with crumble topping.
Bake 25-30 minutes. Remove to cooling rack. Let sit 15 minutes. This gives the muffins time to cool and the liners to loosen from the bottom.
Notes
Using a piping bag (Zipper seal bag with a corner cut works great!) will speed up the muffin filling process. It also makes it easier to cover the cream cheese filling.
To test for doneness, the knife-in-the=center will not work due to the cream cheese filling. I have made several batches and they all came out perfectly at 27-30 minutes. Your oven may vary, so start checking at 25. I use the spring back test and a knife almost in the middle method.
I have tested these with Gluten-free All Purpose 1-1 flour and the results were disastrous, even with additional baking soda and powder. The Pamela's Pancake and Baking mix is the best I've used.
Recommended Products
As an Amazon Associate and member of other affiliate programs, I earn from qualifying purchases.
Nutrition Information:
Yield:

12
Serving Size:

1
Amount Per Serving:
Calories:

221
Total Fat:

10g
Saturated Fat:

7g
Trans Fat:

0g
Unsaturated Fat:

5g
Cholesterol:

57mg
Sodium:

396mg
Carbohydrates:

48g
Fiber:

1g
Sugar:

30g
Protein:

5g