It's story time! This one is called "The Day Katrina Figured Out Gluten-Free Potato Soup" and it's quite a story.
During the first few hours/days of learning the only "cure" from horrendous symptoms of Celiac disease was to cut wheat, I had a steady list of foods and dishes that I was really going to miss.
Cake. Pie. Sister Schuber'ts sausage rolls on the day of Black Friday shopping, and the list goes on.
I had a lofty assumption that some of those dishes could be made without flour, but some might not be easily converted. Potato soup is one of the easiest to modify.
I would love to tell you that I tried a lot of different versions and THIS ONE is the best. But I tried this once and it was good so I'm assuming it's the best since I licked my bowl(s) clean and made it 3 weeks in a row.
It is a year-round obsession of mine. I do not know where this love for the potato came from, but I have vague memories of opening a can of Campbell's cream of potato and adding milk and cheese. I had no problem with the taste of can, apparently.
Since then, I've learned to branch out a little. I've made various versions of broth and cream based.
I've played with flavors to enhance the simple ingredients of potatoes and aromatics. And now I can add a gluten-free version to the list.
And this is my new favorite version. I wish I had known to keep out the flour and add cream cheese long ago!
The resulting consistency and richness of the taste is perfect on a cold night after a long day at work.
This recipe works best if you have an immersion blender. However, if you like a thicker consistency, a hand potato masher works great!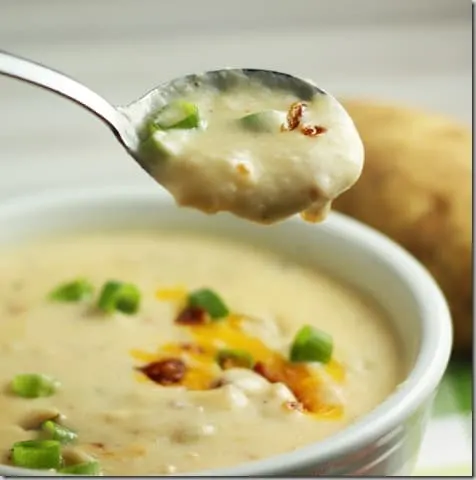 The more potatoes, the better!
I like to use larger sized cubes. I always use russet potatoes for this soup because it makes a smoother texture.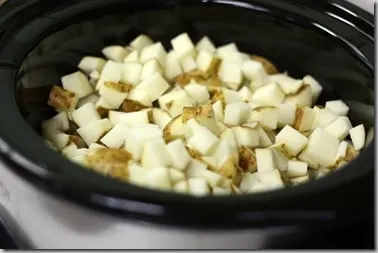 Reserving these cooked potatoes to add back after the cream cheese is fully incorporated. If you want a smoother soup, don't reserve as many potatoes.
Immersion blenders are FANTASTIC for this reason. Fully creamed potato soup. Now add back the reserved potatoes and the rest of the ingredients in the recipe.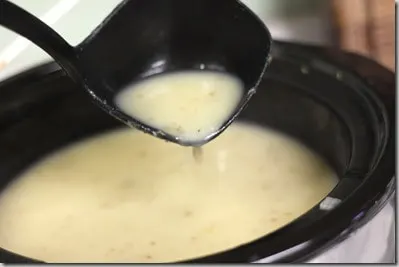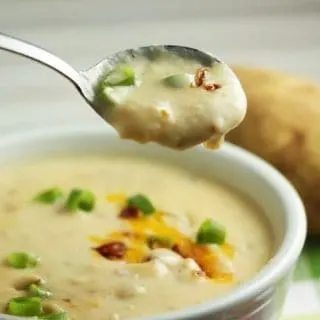 Gluten Free Crock Pot Potato Soup
Total Time:
8 hours
20 minutes
Ingredients
5 lbs potatoes, diced. Leave unpeeled.
1 large yellow onion, diced
1 cup celery, diced
8 cloves garlic, minced
5 cups gluten free chicken stock, be sure gluten free!
2 bars cream cheese, 8oz each
2 cups shredded cheddar cheese
2 teaspoons ground nutmeg, optional
salt and pepper to taste
2 cups whole milk
Optional toppings: bacon crumbles, shredded cheese, sliced green onions
Instructions
Add potatoes, celery, garlic, onions, broth, nutmeg, salt and pepper to crock pot. Cook on low for 6-8 hours.
Decide if you want a completely smooth soup or a thicker, chunkier consistency. I like to have bites of potatoes, so I removed 4 cups of drained cooked potatoes. Set aside.
Using an immersion blender, puree' the rest of the potatoes in the pot. If you do not have an immersion blender, use a potato masher or a traditional blender. For ease, I would go with the potato masher, but you will not get the silky smooth consistency.
Add the cream cheese, 1.5 cups shredded cheese, milk and reserved potatoes. Stir together to incorporate milk.
Put lid on crock pot and let cheeses melt for 15 minutes. Remove lid and stir.
Top with bacon crumbles, shredded cheese, green onions.
Nutrition Information:
Amount Per Serving:
Calories:

512
Saturated Fat:

14g
Cholesterol:

30mg
Sodium:

1421mg
Carbohydrates:

67g
Fiber:

7g
Sugar:

9g
Protein:

12g