A friend of mine at work recently did her first Whole 30. I remember talking about the plan and the things she was giving up for 30 days. The one thing I couldn't imagine ever giving up was cheese. I love the stuff. Well, I thought I did. It's been 20 days without cheese and I really do not crave it or miss it.
Before Whole 30, I would eat cheese on sandwiches, salads, toppings for tacos/burritos, cream cheese for soups, Laughing Cow with veggies, cheese fruit and wine tasting plates, cheese sticks with apples, and the list goes on.
I don't CRAVE cheese like I might crave sugar. I fully intend to add it back in slowly to see if dairy is causing any inflammation issues, but so far, I do not really miss it.
Tonight for dinner, I wanted to make burrito bowls. I first encountered these on my first visit to Chipotle last summer. After finding out about my intolerance to gluten, I started making burrito bowls at home, sans tortillas. This time around, I made them the Whole 30 way. No beans, rice or cheese. I used broccoli slaw instead.
And before anybody complains, it was really good! Will I eat them like this forever? probably not. Will I pile on rice, beans, and cheese after the Whole 30? Probably not.
This is broccoli slaw. It is just a bag of shredded broccoli stems, carrots, and purple cabbage. I use it stir fries, too. It packs a powerful nutrition punch in place of plain cabbage or lettuce.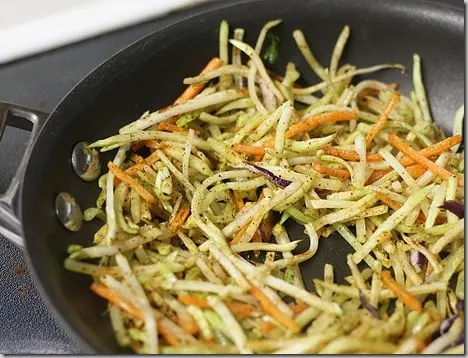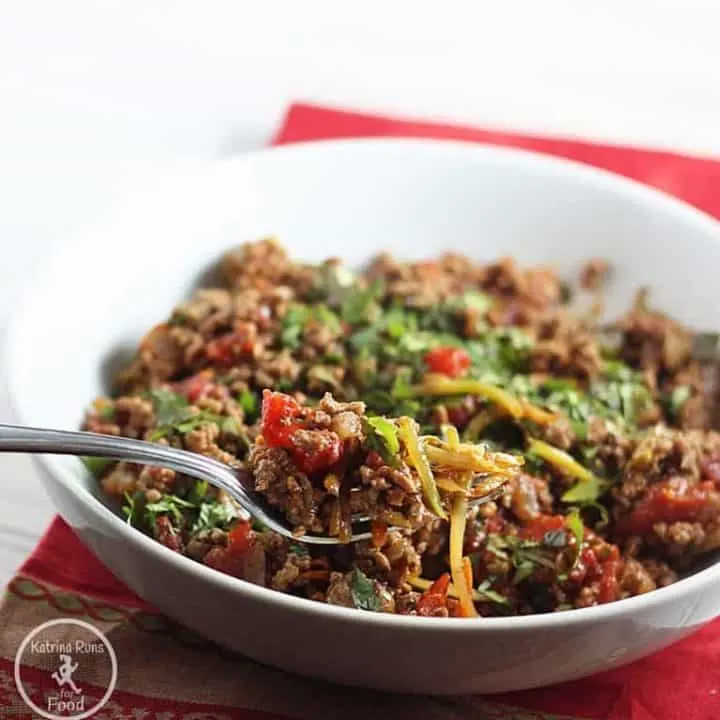 Whole 30 Burrito Bowl
Yield: 4 servings

Prep Time: 15 minutes

Cook Time: 20 minutes

Total Time: 35 minutes
Ingredients
2 Tablespoons avocado oil, olive oil can be substituted
3 cups of broccoli slaw, found in produce department
1 cup of chopped onions, bell pepper, and celery (1total)
2 cloves of garlic, minced
1 lb of ground beef
1 can of petite diced tomatoes
1 small can of diced green chilies
1 Tablespoon chili powder, I used a Bold Taco spice blend
2 teaspoons of ground cumin
2 teaspoons of smoked paprika
Cilantro, chopped for garnish
Instructions
Saute' broccoli slaw, onions, bell pepper, celery, and garlic in 1 Tablespoon of avocado oil for 5-8 minutes. Set aside when crisp tender.
Brown beef. Add tomatoes, green chilies, and spices. Stir to combine. Add a little water if needed.
Assemble bowls. Put a layer of veggies, top with meat sauce. Then top with cilantro. Other toppings could include salsa, green onions, avocado, jalapeños.
Running Recap Jan 28-Feb 2
I hope this feeling lasts. It's been a tough week with stress, sneaky sinus issues, but I'm still enjoying the benefits from the drastic diet change. I'm slowly just base building keeping my weekly totals between 15-20.
Monday: 3 miles
Tuesday: 4 miles
Wednesday: 5 miles
Friday: 3 miles
Saturday: 6 miles
Total: 21 miles